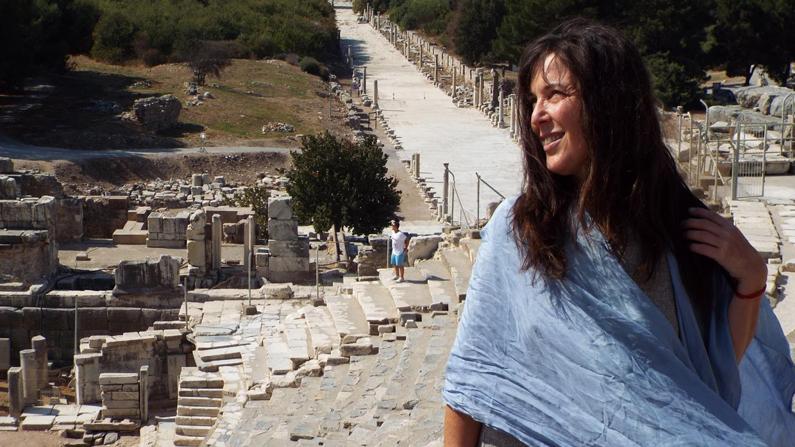 Bio
Laura Bee Ferguson is the Founding Director of the College of the Melissae –an online and on-the-ground sacred beekeeping school and activism platform based in Oregon, West Coast USA.  In her work, Laura blends her heart's desire for activism with her soul's sensitivity to the world and she speaks internationally on sacred beekeeping and how we can and must save the bee to save ourselves.  She is an educator, teacher, speaker and activist and draws on her dual degree in Anthropology and Religious Studies (BA Macalester College) as well as 15 years as a beekeeper. She blends together cutting-edge natural beekeeping methodology and practices with cross-cultural, spiritual and mythological perspectives.
For fun Laura Bee works on her novel, paints, wildcrafts, creates herbal medicines and probably spends too much time canoodling with her chickens on her ¼ acre farm.
For more information about her program:  collegeofthemelissae.com
"We can be good ancestors." ~Laura Bee
Workshop
Bees: Animism and Herstory
A rousing, evocative exploration into the World History of Beekeeping Practices, Influences on our perspective on bees, Bee-Myths and Bee-Goddesses. Meditation Techniques, Animistic Beekeeping, Bees as Dreamweavers
Expect to be entertained, delighted, informed and activated as you learn a new new side of Bees, Nature's Greatest Emissary.
______
"Many people fall completely in love with the bees which is understandable since the whole language of the species is one of perfume, love and collaboration.
But there is more than the language,
there is also…
the song."
~Laura Bee