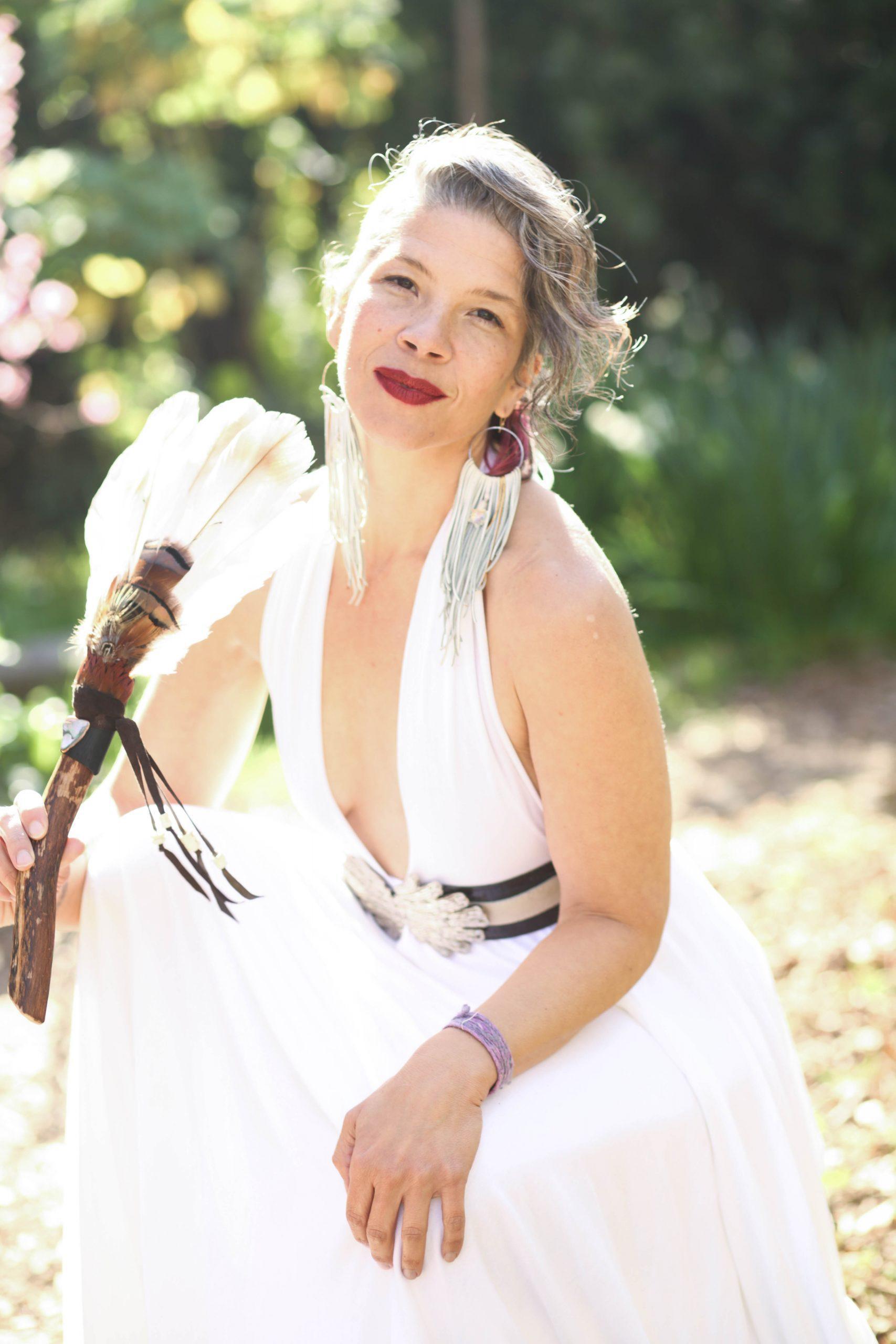 Schedule
Lyrisista Circle
Saturday, June 11th
11:00 am – 1:00 pm
Sunday Sister Soiree: Devotional Hip-Hop/Soul
Sunday, June 12th
9:45 – 11:15 pm
Gina René is an internationally known American singer and songwriter who discovered her voice through a series of colorful life experiences. Born into an multi-ethnic family (Créole/Choctaw Native Am./European) Gina René grew up in the Bohemian setting of Santa Cruz, California, and yet being surrounded by strong musical family roots based out of the early Los Angeles R&B/Soul music scene made for a fertile environment for her unique, future artistry to bloom. As a youth she listened to artists like Stevie Wonder, Cab Calloway, and Ella Fitzgerald along with more contemporary artists like Prince, Tina Marie, Chaka Khan and Run DMC. Music runs in her family. Her Grandpa, Leon Rene, wrote the hit song Rockin Robin, as well as Sleepy time Down South which became Louis Armstrong's theme song. Leon René was also the first Créole and Black independent record label owner on the West Coast, Exclusive Records.
Gina sang in both jazz and concert choirs during her high-school years. She was accepted into both the regional and All-State Honor Choirs in 1994. After graduating, Gina moved to San Francisco and became the lead singer/co-songwriter of her Brother Gabriel's band, Soulstice. The multi-cultural arts scene in San Francisco really inspired Gina to explore multiple directions with her music
Even though Gina came into this world extremely shy, she had  a dream to be an inspiring singer gracing stages across the globe. As fate would have it her birth name Regina René means Queen Reborn and today Gina is most known & celebrated for her unique lyrical, melodic and energetic style and ability to call her listeners forth into their highest and best selves all while weaving a common thread between her own experience and that of the collective. Gina's songs " U Must Be" and "Meangurl" have been featured in Major Motion Pictures & TV shows such as Disney/ Buena Vista Film's 2006 'Step Up', Paramount Pictures 2004 'Mean Girls' and many more.
Drummer, music producer and keyboardist Seth "Million 7" Theodore is her musical bedrock that lays the soundscapes for her vocals. Together Gina René & Million 7 bring over 58+ years of combined musical knowledge, family legacy and live performance experience from producing to singing, to emceeing to songwriting on stages and spaces around the world. Both of these artists felt the call at a young age to honor music as a main path to true connection and healing for both themselves and the greater world. They are committed to music and lyrics that uplift and inspire and create a potent bridge for bringing all kinds of people together.
Workshop
Gina René is back at GFest with her Lyrisista Circle and this time with her muse-i-cal collaborator sister Alyra Rose! 
Lyrisista Circle
A sacred sistar circle meets cypher meets conscious lyricism & word magick exploration!
Are you a Lyrisista? Join true Hip-Hop lover and singer  Gina René in discovering the power and magick of words and how to use lyricism, poetry or songwriting to transform your reality. This workshop is about deliberate creation through the spoken word.  Explore & express through intentional word play, etymology, rhythm and self-expression through sound in a sacred and playful ceremonial container. We will center into our feminine natures and cast our visions and dream onto the stage of life, together. Thus, when a woman owns her voice she sets herself and others free! Let's do this sisters.
Get ready to explore the Art of Flow!