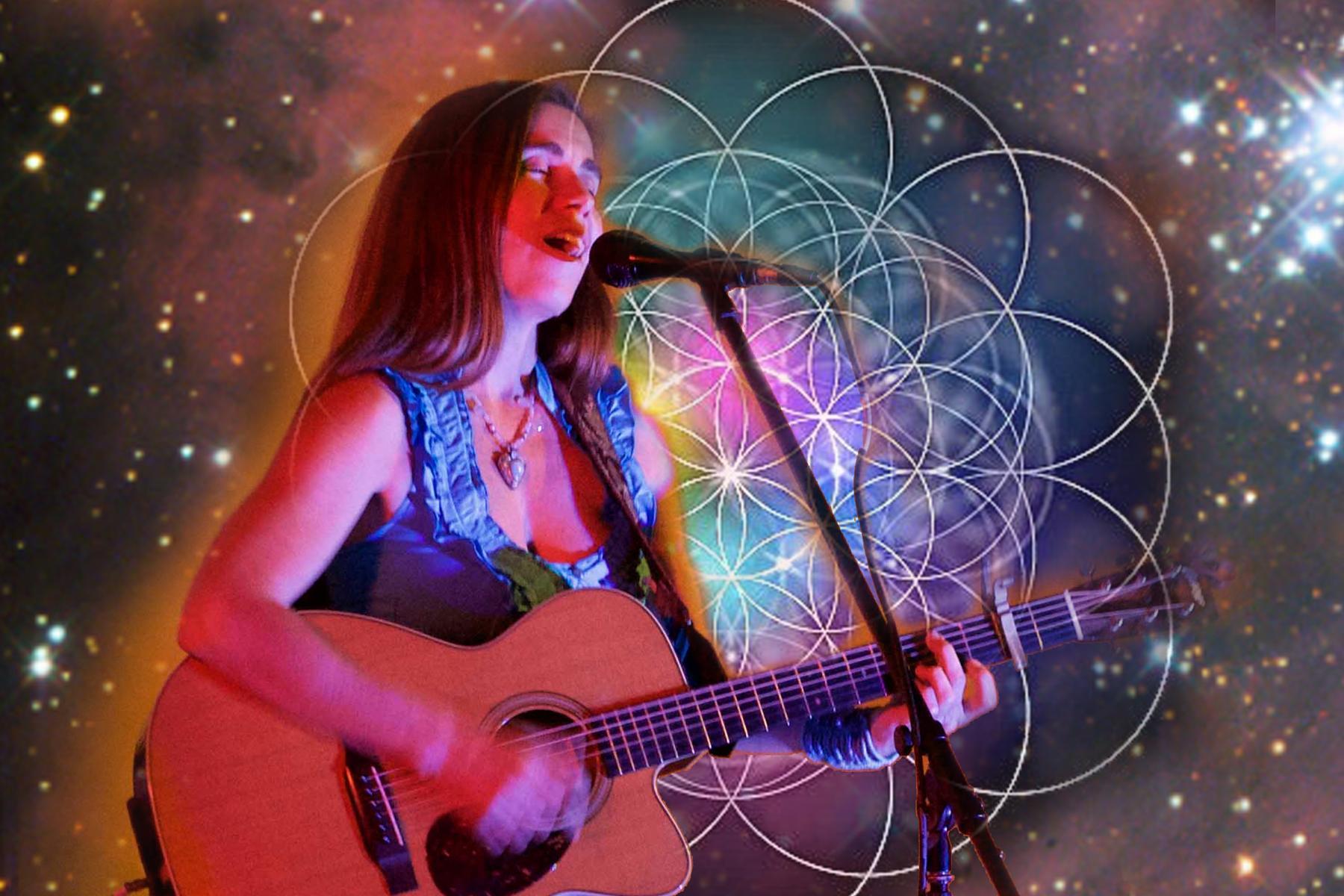 Schedule
Saturday, Jan 23, 2021
7:00 – 7:30 pm
Singer-songwriter, yoga and breathwork-instructor, healer, sound-alchemist and visual artist, Eostar is devoted to facilitate real spiritual experiences through offering her being as a hollow flute for the Divine to play through.
Eostar's music is a journey into the heart of devotion on the wings of transcendental voice and guitar, healing vibrations inspired by ancient shamanic traditions, Eastern philosophies and the sacred sound of mantras. With a special gift and knack for melody, Eostar effortlessly channels beautiful melodies and heart-centered lyrics from the muse and has amassed a vast repertoire of original sacred songs over the last 17 years.  She is well-studied and experienced in many different spiritual paths, all of which merge together in her songs of devotion and spiritual awakening.
Eostar was born in communist Hungary. Individual artistic expression was suppressed by the establishment but nothing could hold back the change of times as the waves of the Summer of Love started rippling into Europe even beyond the iron wall.  Eostar's first musical love was the Beatles, whose influence is still felt in her song-writing.
Later Eostar's incredibly adventurous life brought her to the middle of the emerging West Coast conscious culture.  After yoga teacher training, initiation into the Essene path of mystical communion, two years in Mount Shasta actively pursuing life as a visual artist, sound-healer and mystic poet, Eostar's talents as a song-writer emerged seemingly out of nowhere.  "Music allows me to experience a feeling of oneness with all the people who sing along with me, and that is worth everything!  This oneness with others is the Truth I live by. "- she explains.
Eostar has been sharing her music on the West Coast of the USA, South America and in her birth country Hungary through the last 10 years.  She has played at many conscious and spiritually-oriented festivals such as Bhaktifest, Pranafest, Mystic Garden Gathering, Inlakesh Festival, Raw Spirit Festival, Peace Village Festival, New Earth Festival, Festival Musica Medicina (Peru) and Synthesis (Mexico). 
Eostar's main musical accompanist is Mathias Pailas with whom they founded the psychedelic devotional jam-band "Eostar and the WEB of ONE" as well as their acoustic band "Eostar and the Medicine Mantra".  Eostar has 4 CD releases to her credit: Her first two albums "Devotion" and "Rose and Lotus" were recorded with "Fearless Love" at Om Studios through 2008-11.  "West Coast Alive!" (2012) and  "Illuminate" (2016) were recorded with Mathias Pailas and various other musicians. 
Illuminate, draws on a range of spiritual and musical traditions on songs at once expansive and intimate. Weaving together musical instruments from around the world cradled in an overtly western psychedelic rock foundation, Illuminate draws the listener into a deep sonic experience with a richness that continues to reveal itself through many listens. " We are genre benders, so by joining forces musically we created something unique yet totally accessible " Eostar says. " Its a fusion of our collective musical pasts."
Aside from music concerts Eostar also offers sound healing ceremonies that are connected with breath-work practices that bring the participants to higher states of consciousness.