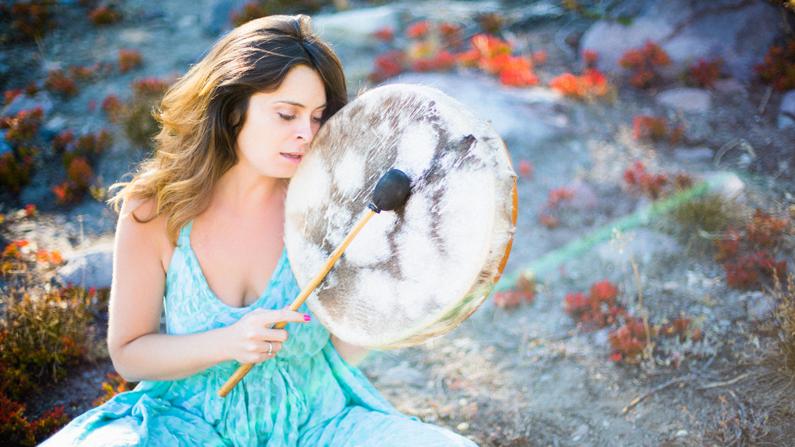 Bio
Christina Wells is a vocalist, sound healer and medicine woman.  Born from a lineage of healers, psychics and artists of a European bloodline. She has been studying the world of sound her entire life and specializes in vocal sound healing.
Over the last 10 years, she has walked the lands of this world studying with indigenous elders from Mexico, Peru, Columbia, Australia, Bali and North America.  In 2012 she began her first initiation with the grandmothers. This earth and our ancestors is the foundation to Christina's work and she acknowledges our interconnectedness to all things in her offerings.  She is a dreamer, earth walker, water woman and sacred fire keeper.  As a medicine woman, she has a responsibility to care for this land.
In 2015, she learned that her voice awakens spirit when she connected with the ancient songlines of Australia.  In 2016, she developed her own modality of sound healing that she now teaches to help awaken the medicine of sound within each individual.  Christina creates a powerful container filled with unconditional love and a freedom of expression in its rawest form. Her approach is both practical and fluid.  People walk away feeling grounded, connected, clear and empowered.
Currently, Christina is in the process of working on her very first album, which will be launched in 2020. 
To learn more go to: www.soundofbodyandmind.com
Workshop
NATURE OF SOUND ~ Planetary Healing
We are each directly interconnected with the natural world around us.  So often, we look outside and see it as being separate.  In this workshop, Christina will talk about how sound is the creation of all things, its relation to nature and the natural order, how it awakens spirit and what the indigenous elders are asking us to remember.
In the first part, we will:
Learn how to make a travel medicine bag
Learn how to create a sacred space
Learn how to sing with nature
How to sing for nature as a group
In the second part, we will open a discussion about Planetary Healing
What seeds are you planting for future generations?
How are you involved during this time of great change?
Share our concerns, visions and action steps.
In the third part, we will close by planting a tree with our songs and visions for the next 7 generations.